Involving community to paint garbage depot
As we get closer to unveiling the unprecedented transformation of the infamous Jallad Khana on 26, March 2023, Tanmoy draws attention to the importance of community engagement when collaborating for change.
SOLshare, Shakti Foundation interconnect a solar P2P microgrid to the national grid
SOLshare, the initiator of the world's first peer-to-peer energy exchange network for rural communities, in collaboration with Shakti Foundation, is set to break another glass ceiling in energy innovation.
Funded by the UK Government, SOLshare and Shakti Foundation will be interconnecting one of their P2P solar microgrids – a network of interconnected solar home systems, in a rural village in Bangladesh through a single point called the "Point of Common Coupling" (PCC), to feed the excess solar energy into the national grid.
The PCC (Point of Common Coupling) integrates Bangladesh's two major electrification efforts – grid extension and Solar Home System dissemination.The Rural Electrification Board (REB) grid is connected to one side of the PCC, while the local microgrid from the SHS is connected to the other side.
The microgrid is self-sustaining and this grid infrastructure will be used for energy balancing with the national grid, while reducing load shedding, and increasing service stability. Users of the Solar Home Systems (SHS) are able to sell electricity to the national grid to earn an additional income while paving the path to sustainability for our existing 6 million+ SHS.
This is the first step towards the formation of a smarter grid with the integration of existing distributed storage assets ultimately providing the means for the formation of a virtual power plant (VPP).
"Shakti Foundation is proud to collaborate with SOLshare in the action research to examine the feasibility of contributing power to the national grid from Solar Home Systems (SHS). We believe this will be a game-changer in climate change mitigation measures and will help realise the country's aspiration of generating 40% power from clean energy sources by 2041.", said Imran Ahmed, deputy executive director of Shakti foundation.
'School-Based Covid-19 Surveillance' project launched to screen school students for Covid-19
Shakti Foundation, one of the nation's leading non-government developmental organizations, in association with IRD Global Bangladesh and funding from Bill and Melinda Gates Foundation, will conduct Ag-RDT tests to screen COVID-19 among students from both public and private schools all over Dhaka City, completely free of cost.
Students found to be COVID-19 positive will be linked with or provided proper treatment through clinical assessment. Besides, pupils staying in isolation or quarantine, as well as their parents, will be provided with educational information, psychological counseling and other social support as per needs.
An agreement was signed between Shakti Foundation and IRD Bangladesh on 5th April, 2022 in this regard. The signing ceremony was presided over by the Deputy Executive Director of Shakti Foundation, Mr. Imran Ahmed and Country Director of IRD Global, Dr. Tapash Roy.
Notably, Shakti Foundation had made a significant contribution towards combating the spread of COVID-19 through awareness building and free mask distribution via its initiative, "Mask Amar, Shurokkha Shobar". By this campaign Shakti foundation distributed more than 30 lakhs free mask and aware nearly 50 lakhs people.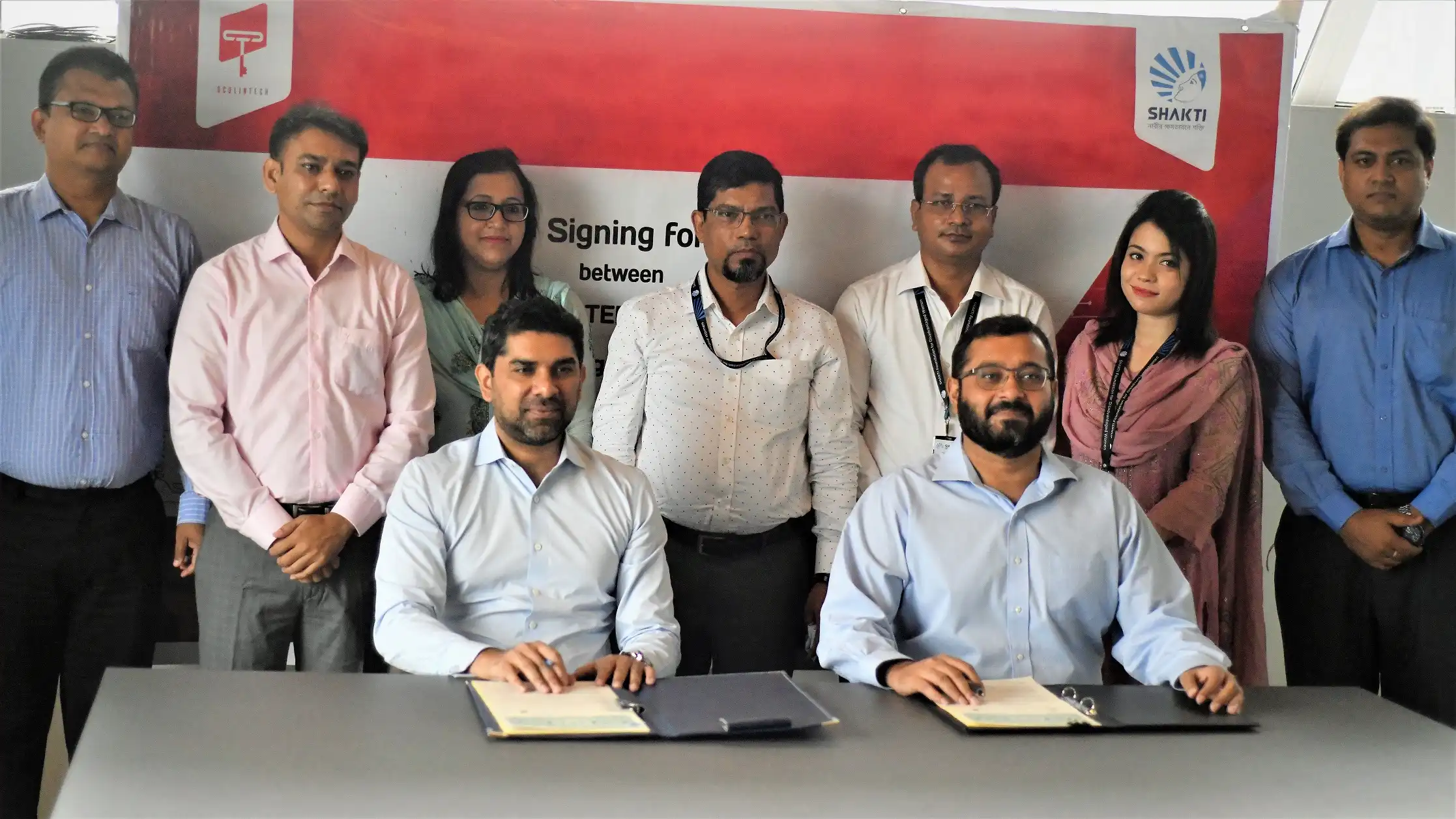 Free IT training to Girls will be provided by Shakti Foundation and Oculin Tech BD Ltd.
In an effort to build a digital Bangladesh and build a better future, Shakti Foundation, one of the largest NGOs in the country and Oculin Tech BD Ltd, one of the leading IT companies in Bangladesh have taken up a project titled "Coding for Girls", where girls with an interest in IT and Computer Science at school and college level will be taught Programing Language such as Python along with other freelancing training at free of cost.
An agreement in this regard was signed on April 26, 2022 at the office of Oculin Tech BD Ltd. at Gulshan in the country's capital. Mr. Imran Ahmed, Deputy Executive Director, Shakti Foundation, and Mr. Shadab Sajid, Managing Director, Oculin Tech BD were present at the signing ceremony.
Initially, this training will be given on Araihazar Upazila of Narayanganj and Titas Upazila of Cumilla. In addition to local high schools, local IT training institutes will also be involved in this activity. This will allow others to receive training to enhance IT skills in non-urban areas. This training course will include Basic Computer Training, Web Development, Graphics Designing, and Introduction to Python.
SME Loan in only 7 days for online entrepreneurs launched
Shakti Foundation, one of the largest microfinance institutions in the country, and Delivery Tiger, a leading logistics platform, have collaborated to launch the 'e-Loan' product for online entrepreneurs. The 'e-Loan' product enables online small and medium (SME) retailers to get loans of up to Tk 5 lakhs within 5 to 7 working days of application. The entire process from loan origination to disbursement and repayment is completely digitized. This allows small and medium entrepreneurs quick access to finance; moreover, the service charge of this loan is also relatively low compared to MFI standards. Small and medium entrepreneurs, who currently can't apply for SME loans from banks due to trade licensesdocument-related or other document-related issues can also easily apply for this e-Loan.
Shakti Foundation and Delivery Tiger hope that this product will help meet the demand for working capital of online SMEs.
An agreement regarding e-Loan was signed on 28th February 2022 at the Head Office of Shakti Foundation in Mirpur, Dhaka. Mr. Imran Ahmed, Deputy Executive Director of Shakti Foundation, and Mr. A.K.M Fahim Mashroor, Chief Executive Officer of Delivery Tiger, were present on the occasion.license document
Shakti Foundation continues countrywide free masks distribution
Shakti Foundation distributed around 5 lakh masks for free of cost through its 445 centers across the country on Saturday.
Citi launches 15th edition of microentrepreneurship awards
The Citi Foundation, the philanthropic arm of Citigroup, yesterday launched the 15th Citi Microentrepreneurship Awards (CMA) to encourage micro, small and medium entrepreneurship in the country.
This year the CMA programme is being organised jointly by the Citi Foundation and the Shakti Foundation, while the strategic partner of the event is the Credit and Development Forum.
The awards, which were initiated in 2005, will be given in six categories, the organisers announced at a press conference in the capital's Six Seasons Hotel. The deadline for submission of the applications is January 25 next year. The award ceremony is expected to be held next year.
Citi honours micro-entrepreneurs
Humaira Islam, executive director of Shakti Foundation, and N Rajashekaran, managing director and country officer of Citi Bangladesh, also spoke at the event. Channel i and The Daily Star were the event's media partners.
bKash partners with Shakti Foundation
bKash Limited, the largest mobile financial service provider in the country, has signed an agreement with Shakti Foundation recently for Disadvantaged Women, a leading NGO, to facilitate loan disbursement and repayment for its members through bKash.
ENRICH program discussion meeting, Jointly organized by Shakti Foundation for Disadvantaged Women and Palli Karma Sahayak Foundation (PKSF).
On 25th April, 2018 Wednesday morning from 10.00 am to 6.30 pm Palli Karma Sahayak Foundation (PKSF) and Shakti Foundation for Disadvantaged Women jointly organized a colorful program in Comilla District, Titas upazila, Majadpur union of Lalpur village market premises.